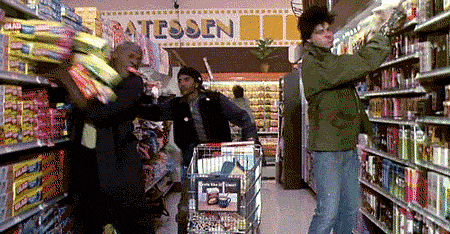 It's rough out there, isn't it? I heard from some of you that random items on this week's list were sold out in your area—if you need help adjusting and substituting, leave a comment on this post and I'll do my best to help.
Friday was our first day with everyone home, which is normally my exclusive turf during school/work hours. My husband has joined me in working from here, and although NYC schools are still open, we kept the kid home. He commutes on public transportation, and despite the fact that we're not worried about him getting sick, we are worried about him bringing home the virus, or infecting others while he's out and about.
Our apartment seems spacious on normal days, but man does it feel small now that all three of us are here all the time. We had a family meeting this morning to talk through how this will go. Covered subjects included how to respect each other's need for space and quiet during work hours, and how to make sure none of us feels trapped in our respective spaces (my office: our bedroom; husband's office: the living room; and the kid in his bedroom). Plus how to make sure we all manage to move our bodies for at least 45 minutes every day via workout videos, Ring Fit on the Switch, or by going for long walks in the neighborhood. Kiddo went off to play Pokémon Go while my husband and I cooked dinner, so that worked out well.
And we also discussed the uncertainty of everything right now. Nobody knows how long COVID-19 will swirl around the country, or if we're already infected and just not showing symptoms yet. Things are likely to get hairy. Some of our good intentions probably won't work out. We might run out of chocolate. The three of us agreed we'd at least try to remember that life right now is a work in progress, even more so than usual. My goal is to be gentle with my new always-here companions, as well as myself. And hopefully eat some good food.
---
Sunday
Vegetarians only: Cook a Bunch of Lentils
Cook the entire pound in a large pot of simmering water, seasoned with some smashed garlic cloves and a chunked-up carrot if you feel like it, for 20-25 minutes, until tender. Drain and season with salt. Put 1 1/2 cups in a container for Tuesday, and 3 cups in another container for Thursday (make sure to include some of the cooking liquid). Use the rest for lunch salads during the week, or freeze it.
Monday
Baked Potato Bar
I like an oven-baked potato as much as the next person, so if you've got the time by all means go for it. But if you don't, you've got two options: Get them all into the slow cooker in the morning so they'll be ready come dinnertime, or cook 'em quick in the Instant Pot about 45 minutes before you want to eat. Either way, I like to give them 10-15 minutes in a nice hot oven to crisp the skins before serving.
To set up your baked potato bar, put out bowls with any or all of the following: butter, Greek yogurt, shredded cheddar, rinsed and drained black beans, steamed broccoli florets, chopped scallions, crumbled cooked bacon, and salsa. Give everybody a spud, and let them go to town.
You should have extra potatoes, 2 if you're vegetarian and 3 if you're a meat-eater. While they're still warm, scoop out the flesh, give it a quick mash, and pop it in the fridge for tomorrow.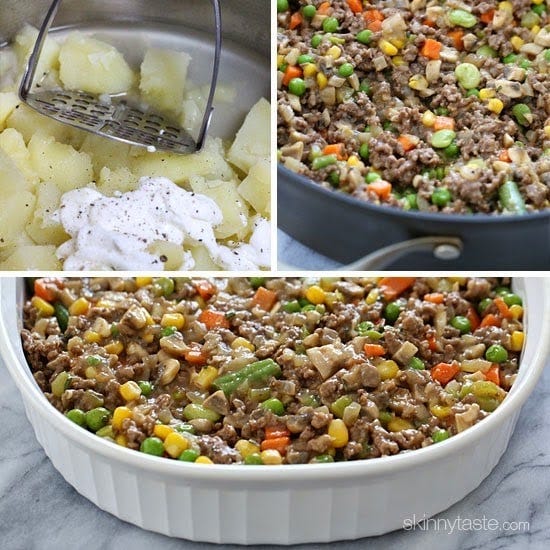 Photo courtesy SkinnyTaste
Tuesday
Pull out those mashed potatoes! Vegetarians, grab the smaller container of lentils! Both the meat-based and the vegetarian recipes are straightforward, so you don't need much commentary from me. Warm up the potatoes a bit to make them easier to work with, then proceed with your recipe's instructions. Meat folks, use Greek yogurt in place of sour cream. Vegetarians, add buttermilk powder + water to your potatoes (check the package for amounts—you'll want enough to make 1/2 cup). Vegetarians, your recipe doesn't call for Worcestershire sauce in the filling, but trust me on this: Add a splash in step 3, when you add the broth. It'll make everything taste richer.
Wednesday
Omelet Night with a baguette, and maybe some bacon
Breakfast for dinner is always a hit, no? The beauty of omelets is you can fill each separately, so if one kid likes spinach but not mushrooms he'll be happy, and if another likes neither you can use jam or cheese or whatever she does like.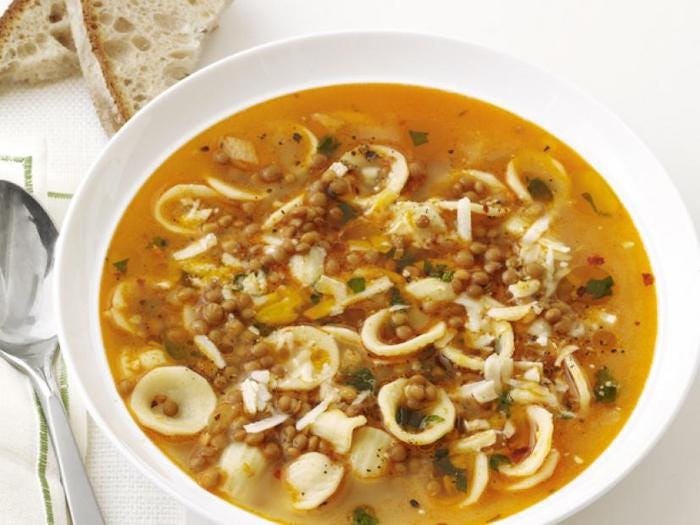 Photo courtesy Food Network
Thursday
Vegetarians, grab that second container of lentils to use tonight. Other than that, just follow the recipe and you'll be feasting in about half an hour.
Friday
Everybody's using the same basic recipe, only with different proteins. Before you start on the tacos, throw together the slaw using the package of slaw mix. Vegetarians, you'll also want to spend a little time pressing your tofu between layers of paper towels. Give that 20 minutes, then cut it into sticks and toss with the spice mixture in the recipe and a squeeze of lime juice. Bake at 400°F for 30 minutes (note that your tortillas won't need to be in the oven the whole time—add them to the sheet pan around the 20-minute mark). Use some more of that Greek yogurt in place of the sour cream.
---
For next week, I think I'm going to assume that nearly all of us will be hunkered down. I'll assemble a menu that's as pantry-based as possible. Wish me luck!
Wash your hands,
Debbie