Shopping List: Cooking in Isolation with Comforting Soup, Pantry Pasta Salad, and Slow Cooker Risotto
The Family Plan #19
How's everyone doing? Like, really doing? After hearing our mayor talk about potentially locking down NYC within the next 48 hours, I did one last panic-shop. If there's a chance we're going to be really living on what we have in our pantries, I wanted to make sure I had things like cans of corn and peaches, and jarred chopped garlic.
The supermarket felt forlorn and empty—instead of the bustling crowds of people stocking up with a jolly shrug, relatively few shoppers grabbed what they could off the picked-clean shelves and tried not to get too close to each other. There wasn't even a line to check out.
I've been trying to figure out how to offer up a meal plan that will work for a substantial number of readers, when we can't just run to the store. What I've come up with feels pretty flexible, but I know you're unlikely to have everything you need. I'll open up a discussion thread so we can talk substitutions—and I wrote an article for HuffPost recommending swaps for common ingredients. Maybe you'll find that helpful.
Here's the menu: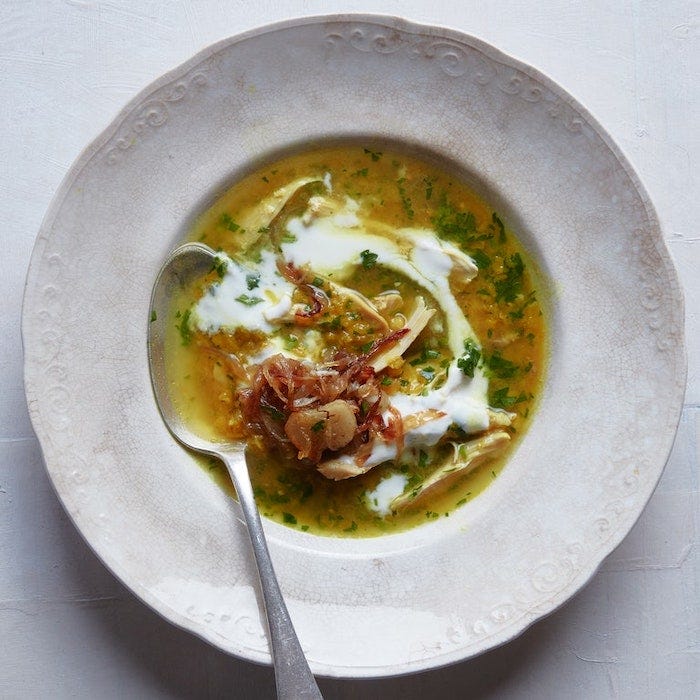 Photo courtesy Bon Appetit
MONDAY: Chicken-Lentil (or Just Lentil) Soup with Jammy Onions from Bon Appetit. One of you wrote to me a while back about how amazing this soup is, and I've been holding it in my back pocket for when we all need something comforting and yet a little unusual. Red lentils break down a bit as they simmer, making a lovely, rich soup. Meat-eaters, you'll cook extra chicken (either 2 or 4 more thighs, depending on your supply) to use on Wednesday. Vegetarians, you'll skip the chicken completely and add more lentils instead. You're going to want to dunk some bread in this.
TUESDAY: Sun-Dried Tomato, White Bean & Artichoke Pesto Pasta Salad from Two Peas & Their Pod. You can serve this pantry-based salad warm, if you like, with or without the greens. The recipe serves 8, so you'll have enough for lunches, too.
WEDNESDAY: Mediterranean Chicken and Couscous Bowls from Cooking Light use Monday's leftover chicken. Vegetarians, you'll swap in chickpeas. Check out the recipe's headnote for suggestions of alternate vegetables, if you don't have cukes and tomatoes. You could even use frozen vegetables, if that's what's available.
Photo courtesy Damn Delicious
THURSDAY: One-Pan Mexican Quinoa from Damn Delicious is almost entirely pantry-based. And it cooks up in no time!
FRIDAY: Slow Cooker Butternut Squash Risotto is one of my favorite recipes from Not Your Mother's Slow Cooker Cookbook. This'll also work in the Instant Pot—I'll include instructions for that on Saturday. And if you don't have winter squash but you do have mushrooms (even dried), you can use that instead.
Here's the shopping list:
I know you probably can't go shopping, but this should help you figure out if you've got enough to make the recipes. Remember, an asterisk* indicates an ingredient for vegetarians only. If I don't specify an amount for an ingredient, assume it's not substantial. And note that I'm not including salt and pepper unless a recipe calls for a particularly large quantity.
Produce
1 large onion (M)

1 medium red onion (W)

1 jalapeno OR pickled sliced jalapenos (Th)

1 large shallot (F)

1 head garlic (M, W, Th)

1 bunch parsley OR dried parsley (M)

1 bunch basil (T)

1 bunch fresh dill OR dried dill (W)

1 bunch cilantro (Th)

2 cups arugula or other greens (T)

1 small English cucumber (W)

1 container cherry or grape tomatoes (W)

1 avocado (Th)

1 butternut squash OR 1 package frozen winter squash (F)

1 lemon (M)

1 lime (Th)
Pantry
Extra-virgin olive oil (M, W, Th, F)

1 or 1 1/2* cups red lentils (M)

Ground turmeric (M)

Dried parsley OR 1 bunch fresh parsley (M)

Dried dill OR 1 bunch fresh dill (W)

Chili powder (Th)

Cumin (Th)

1 lb. fusilli or other short cut pasta (T)

1 cup jarred pesto OR refrigerated pesto (T)

One 14-oz. can white beans (T)

One 14-oz. can chickpeas (W)

One 14-oz. can black beans (Th)

One 14-oz. can artichoke hearts (T)

6 oz. sun-dried tomatoes (T)

One 14.5-oz. can fire-roasted (or regular) diced tomatoes (Th)

1 cup canned OR frozen corn kernels (Th)

Small package pine nuts (T)

1 1/2 cups Israeli couscous (W)

Buttermilk powder OR small container buttermilk (W)

White vinegar (W)

1 jar pickled sliced jalapenos OR 1 fresh jalapeno (Th)

1 cup quinoa (Th)

4 cups vegetable or chicken broth (Th, F)

1 cup arborio rice (F)
Meat Counter
6-8 skin-on, bone-in chicken thighs (M, W)
Dairy
Medium or large container plain Greek yogurt (M, W)

1 cup refrigerated pesto OR jarred pesto (T)

4 oz. Parmesan cheese (T)

Small container buttermilk OR buttermilk powder (W)

1 oz. feta, ricotta, queso fresco, or goat cheese (W)

Butter (F)
Freezer Case
1 cup frozen OR canned corn kernels (Th)

1 package winter squash chunks or puree OR 1 butternut squash (F)

1/2 cup peas (F)
Bakery
Any kind of crusty bread or pita (M)
Liquor Store
Dry white wine or vermouth (F)
---
Stay safe and be gentle with each other, everyone. We're living through some scary times.
Look for a discussion thread later today, to talk about substitutions/options.
Debbie