I know, many of you are already well into summer vacation. But here in NYC, the school year finally ends next Friday, the 26th. My son is graduating from middle school, and like so many others his school is having a virtual ceremony. They're hoping to do a socially-distanced, class-by-class walk around the outside of the school building in caps and gowns, but that's still up in the air. Yesterday the teachers drove all over Brooklyn and Queens, delivering graduation packages to each student's home.
It all feels a little surreal, ending on this note. My kid doesn't seem to have any sense of excitement over this, no HOLY COW I'M GOING TO HIGH SCHOOL. He's super-chill about all of it. As long as he's got his video games and friends to play with, this whole lockdown thing is just fine with him. I'm definitely more emotional about graduation than he is.
Kids are weird, man.
This commemorative mask, the highlight of the graduation package, is definitely going into the time capsule.
Because the city is still mostly locked down, we're not doing much in the way of celebration. So next week's plan is pretty low-key, definitely still respecting the needs of people who aren't able to shop for groceries frequently.
Here's the menu:
MONDAY: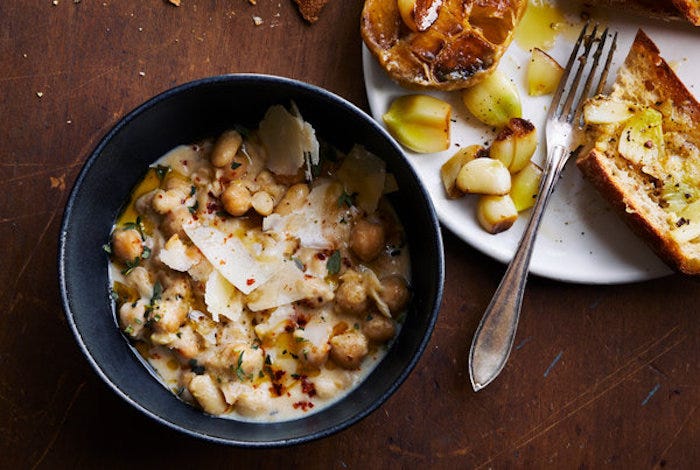 Photo courtesy The New York Times
Creamy Braised White Beans from The New York Times, with greens or without, takes almost no effort on your part. Add a little sausage or bacon if you'd like a meaty accent. Double the recipe for Thursday.
TUESDAY: Red Pepper, Potato, and Peanut Sabzi and Egg Tacos from Bon Appetit. The headnote of this easy Indian dish includes a smart suggestion: Serve the sabzi with tortillas and scrambled eggs for an Indo-Texan taco night. Save the bell pepper scraps for Friday—you only need a little.
WEDNESDAY:
Photo courtesy Food Network
Quinoa and Vegetable Stuffed Peppers from Food Network. The recipe calls for eggplant and zucchini, but you can use all of one or the other, or either of them plus mushrooms. Make extra quinoa for Friday.
THURSDAY: Quick Pasta with Beans & Greens. This is one of those no-recipe nights. No worries, I'll walk you through it—you're basically using Monday's leftover beans (and greens, if you used them) as a pasta sauce. Serve it with grated Parm.
FRIDAY: Quinoa Black Bean Burgers from AllRecipes with potato chips. The quinoa you set aside on Wednesday helps bind these burgers (and also gives them a protein boost). You can use all the traditional burger toppings, or you can get creative with whatever's in your pantry.
Here's the shopping list:
If you're not shopping regularly yet you may not be able to cook everything on the menu, but this shopping list will help you see what you need. Note that I didn't include toppings for Friday's burgers—use whatever you like.
Produce
3 heads garlic (M, W, Th, F)

1 medium yellow onion (T, F)

1 red onion (W)

2 sprigs thyme OR 4 sage leaves OR 2 bay leaves (M, Th)

1 bunch flat-leaf parsley (W)

1 bunch mint OR basil (W)

1 bunch kale OR chard OR other greens OR frozen greens (M, Th)

1 large potato (T)

2 medium red plus 5 small bell peppers of any color (T)

1 small eggplant (W)

1 small to medium zucchini (W)

1 fresh chile pepper, such as Fresno OR red pepper flakes (W)

2 plum tomatoes OR canned diced tomatoes (W)

1 lime (T)
Pantry
4 (15-oz.) cans chickpeas and/or white beans, such as cannellini or Great Northern (M, Th)

1 (15-oz.) can black beans (F)

2 bay leaves OR fresh herbs (M, Th)

Ground nutmeg, allspice, or garam masala (M, Th)

Aleppo pepper or red pepper flakes (M, Th)

Cumin seeds (T)

Ground cumin (F)

Fennel seeds (T)

Extra-virgin olive oil (M, T, W, Th, F)

1/4 cup roasted unsalted peanuts (T)

1 1/4 cups quinoa (W, F)

2 1/2 cups vegetable or chicken stock OR water (W, F)

1 (15-oz.) can diced tomatoes OR fresh tomatoes (W)

8 oz. pasta, any kind (Th)

1/2 cup breadcrumbs (F)

Hot sauce, such as Frank's RedHot (F)

1 bag potato chips (F)
Meat Counter
Sausage (smoked or Italian) OR bacon, optional (M, Th)
Dairy
2 tablespoons unsalted butter (M, Th)

2 cups whole milk (M, Th)

Parmesan cheese (M, Th)

1 cup crumbled feta or ricotta salata (W)

9 eggs (T, F)
Bakery
1 loaf crusty bread (M)

Corn or flour tortillas (T)

4 or 5 burger buns OR Kaiser rolls (F)
Freezer Case
Spinach OR kale OR fresh greens (M, Th)