I don't know what it's like where you are, but here in NYC we've having a heat wave. It's making it even easier than usual for me to stay holed up in our apartment.
We've got air conditioners, including one in the kitchen, but just knowing it's steamy out there leaves me reluctant to heat up the joint. So next week's plan involves relatively little actual cooking.
You're on the free list for The Family Plan. For the full experience, become a paying subscriber.
Here's the menu:
MONDAY: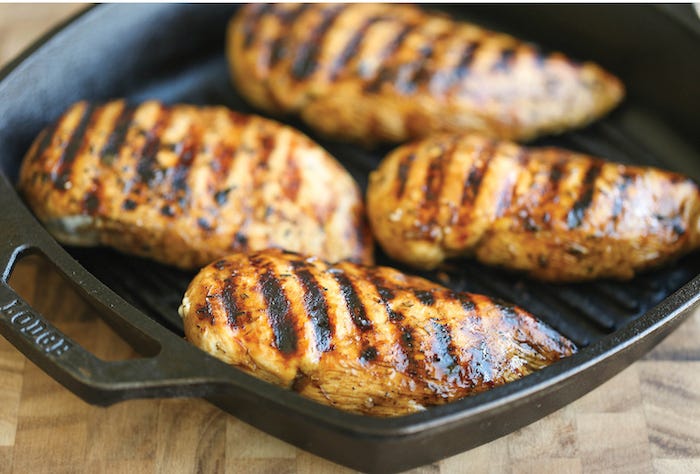 Photo courtesy Damn Delicious
Easy Grilled Chicken (or tofu/seitan/tempeh) from Damn Delicious, with grilled vegetables and bread. For one night, you'll fire up the grill and cook enough to give you fodder for two other dinners, and maybe a lunch or two. The marinade works with chicken, of course, but if you're a vegetarian you can swap in whichever plant-based protein you like.
TUESDAY: Instant Pot Black Beans from Well Plated, with rice, avocado, and cherry tomatoes. The beauty of beans in the IP: You don't have to soak them before cooking, and your kitchen stays cool. This'll make enough leftovers for Friday's dinner and maybe some lunches, too.
WEDNESDAY: Salad for Dinner. The simplest possible summer dinner, no recipe required: Toss greens and vegetables with Monday's grilled chicken or plant-based protein, a bit of salty cheese, something briny like olives or capers, and something crunchy—like croutons made from the rest of Monday's bread.
THURSDAY:
Pasta with No-Cook Sauce by yours truly. Waaaay back in my blogging days, I created a pair of simple, vegetable-based sauces for pasta that didn't require any cooking at all. Make Angel Hair Zucchini or Raw Tomato Sauce—the choice is yours. Note that the recipes serve 2, so you'll be doubling.
FRIDAY: Grilled Vegetable & Black Bean Nachos. Let's end the week with another super-easy, no recipe required dinner: Top tortilla chips with Monday's grilled vegetables and Tuesday's beans plus plenty of cheese. This time you'll have to turn on the oven, but it shouldn't take more than 5 minutes—just long enough to melt the cheese under the broiler.
Here's the shopping list:
Still not shopping often? Me neither. Use this list to assess which recipes you can make with what you have. Remember, an asterisk * is for the vegetarian option.
Produce
8 cloves garlic (M, T, W, Th, F)

1 small yellow onion (T, F)

1 small red onion (T, F)

Fresh OR dried thyme (M, W)

Fresh OR dried oregano (M, W)

Fresh OR dried rosemary (M, W)

1 bunch basil (Th)

Grilling vegetables, enough for Monday's side and Friday's nachos (i.e. eggplant, zucchini, yellow squash, onion, bell pepper, portobello mushrooms, corn) (M, F)

3 small zucchini, optional (Th)

1 bell pepper (T, F)

2 avocados (T, F)

1-2 pints cherry tomatoes (T, W, F)

4 large tomatoes, optional (Th)

Salad greens (W)

Salad vegetables, enough for Wednesday (i.e. cucumber, carrots, scallions, cabbage, celery, cauliflower, radishes, bell peppers)

2-3 lemons (M, W, Th)

2 packages tofu OR seitan OR tempeh* (M, W)
Pantry
Balsamic vinegar (M, W)

Olive oil (M, T, W, Th)

5 tablespoons Dijon mustard (M, W)

1/4 cup brown sugar (M, W)

2 tablespoons Worcestershire sauce (M, W)

Dried OR fresh thyme (M, W)

Dried OR fresh oregano (M, T, W)

Dried OR fresh rosemary (M, W)

Ground cumin (T, F)

Bay leaves (T, F)

1 lb. dried black beans (T, F)

1 cup rice (T)

Briny food for salad, enough for Wednesday (i.e. olives, capers, marinated artichoke hearts, peppadew peppers)

8 oz. angel hair or other pasta (Th)

1 bag tortilla chips (F)

Prepared salsa (F)
Meat Counter
8 boneless, skinless chicken breasts OR 12 boneless, skinless chicken thighs (M, W)
Dairy
Feta OR ricotta salata OR fresh mozz OR any other cheese you like in salad (W)

1 oz. parmesan (Th)

8-10 oz. cheddar OR Monterey jack (F)
Bakery
1 loaf crusty bread (M, W)
---
Stay safe, be kind, wash your hands, and wear a mask.
Debbie