My dad turned 82 the other day, his first birthday since my mom moved into the nursing home. For years he'd been her 24/7 caretaker, as physical disabilities (and more than a little mental illness) kept her inside their apartment. For her first month or two in the nursing home he slept on a cot in her room, to make sure someone familiar was there if she woke up in the middle of the night. That stopped shortly before the whole place went into lockdown, so he went from being completely dedicated to caring for his wife to being completely alone, literally not allowed to get near another human because of this stupid virus.
I asked him, when was the last time he lived on his own? His answer: 1961, for about six months.
We had a Zoom party scheduled, but the thought of him spending his birthday all by himself was eating at me, so I baked him some cupcakes and drove up to see him. We sat on benches at the apartment complex where I grew up, careful to stay far apart.
It occurred to me that I'd grown up hearing stories about my mom's family but very little about my dad's, so I started to ask questions. As casually as if he were telling me his eyes are brown, my dad said his father was one of 12 children and rattled off the names of a half-dozen aunts and uncles. Some kind of falling out happened when he was a young man. I never knew this huge extended family existed until the conversation on the benches. How's that for mind-blowing?
Anyway, that's the big excitement in my world this week. I hope yours has been equally earth-shattering-yet-not-bad.
Here's the plan for next week:
Monday
First off, cook a double-batch of rice so you'll have enough for Thursday. Now, let's talk about how to adapt this recipe to what you've got. As far as lentils go, you can use pretty much any type. Even red or yellow, as long as you accept that they'll break down into something dal-like as they cook. The only question will be cooking time. If you look online you'll see a wide variety of estimates, but in my experience red or yellow will be done in 15-20, brown and green 20-30, and black or French/Puy 30-40. If you're using brown, green, black, or French, double everything in the recipe up until step 4. Before you add the coconut milk, transfer half the lentils to a container and refrigerate for Wednesday. If you have canned lentils but not dried, just use one can here, rinsed and drained, with one cup of broth, and simmer for just a few minutes in step 3.
Next up: spinach. If you're using frozen I'd defrost it and squeeze it before adding to the pot, since it tends to be quite wet. As I said the other day, feel free to add some sliced carrots to the pot for more color and a hint of sweetness.
Tuesday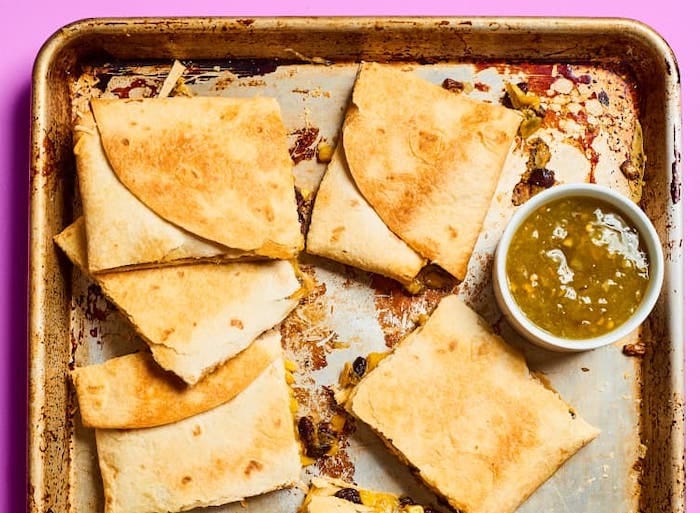 photo courtesy TheKitchn
Use whatever melty cheese you have, and whatever beans you like. No corn? Swap in whatever sounds good to you. Serve it with a little crudités and extra salsa.
Wednesday
If you cooked those extra lentils on Monday, pull them out of the fridge. I don't keep quatre épices on hand, but it's easy enough to approximate. For this recipe I'd do about 3/4 teaspoon ground black or white pepper (less if that sounds like too much for your kids) plus 1/8 teaspoon each of ground ginger, cloves, and nutmeg.
Thursday
Just the words "crispy rice" make me happy, imagining myself at a Korean restaurant waiting for my bibimbap to arrive. This homemade crusty-rice bowl will have to do. Use whatever fresh or pickled vegetables you have.
Friday
To swap frozen kale for fresh here, drop it into the boiling water for just 1 minute, then proceed. And use whatever melting cheese you have, if Monterey Jack isn't available.
---
Stay safe, be kind, and wash your hands.
Debbie