Flexible Chickpea Stew, Mediterranean Quinoa Bowls, and a Knock-Your-Socks-Off Posole
The Family Plan #27
I thought you might be in need of a little pick-me-up. Allow me to introduce Axel, one of our two cats.
Axel likes to join us at dinner, so he hops up to sit at the table every night. As cats at the table go, he's pretty well behaved. In fact, he may have better manners than my 13-year-old, who seems to think silverware is optional. Sniffing food appeals to Axel, but he'll only try to take some towards the end of the meal, when he thinks nobody's looking. Unless it's chicken—in that case, we've learned to protect our plates at all cost.
Here's the plan for next week:
Monday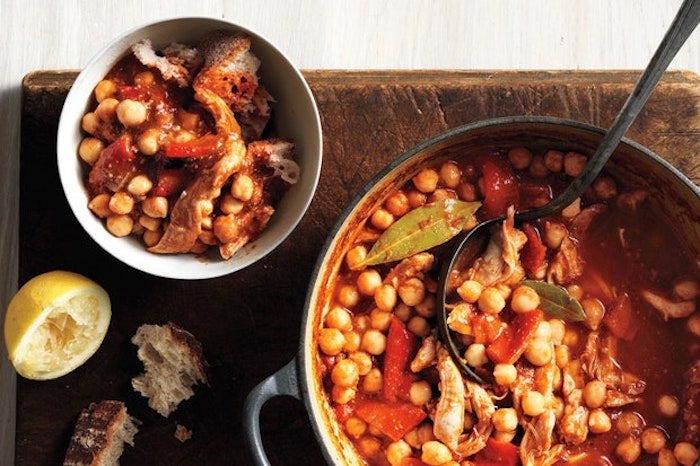 photo courtesy Epicurious
Chickpea Stew with or without chicken, with bread or couscous
What kind of chicken do you have? It'll affect the cooking time. The recipe calls for boneless thighs—if you're swapping in breasts, start checking to see if it's done after 15 minutes of simmering. If you're using bone-in chicken of any kind, start checking after 30 minutes. And if you have enough chicken on-hand, add an extra 3-4 pieces to refrigerate for Wednesday.
Vegetarians, you have options—you might want to use vegetable broth instead of water to give the flavor a boost. You can either add an additional can of chickpeas (simmer the sauce mixture for 5-10 minutes first), or brown slices of tofu, tempeh, or seitan as you would the chicken, but only simmer for 5-10 minutes before adding the chickpeas.
Tuesday
My friend Yasmin's recipe is so straightforward, you don't need much advice from me. Vegetarians, obviously, you'll leave out the pork.
Wednesday
First off, cook a double-batch of quinoa and refrigerate half for Friday. If you had extra chicken on Monday, pull it out. If you didn't use chicken at all on Monday, add a can of white beans (or whatever beans you like).
Thursday
If you don't have canned hominy, swap in 1 1/2 cups frozen or canned corn kernels. As I said the other day, it won't be the same, but it'll still be mighty tasty.
Friday
photo courtesy Gimme Some Oven
Pull out that quinoa from Wednesday as well as your favorite pizza toppings, assemble the bowls, and you'll be eating in less than half an hour.
---
Stay safe, be kind, and wash your hands.
Debbie