Shopping List: Easy Eggplant Parm, Lemony Chicken (or Tofu, or Seitan), and Anything-Goes Grain Salad
The Family Plan #33
My son graduates from middle school tomorrow. If he had his way, starting Saturday morning he'd spend the rest of the summer in his room playing video games. Maybe we'd see him when he emerged for food, but mostly he'd be a shadow, a memory, a hint of the son we used to have. Obviously, that ain't happening.
The current argument—sorry, discussion—concerns exactly how unlimited his screen time will be this summer. Typically, we've been the mean parents who have set hours when he just doesn't have access to screens. We keep his phone and his mouse in our room overnight. But he's turning 14 soon, and most of his friends don't have limits any longer. I'm still extremely uncomfortable at the idea of no structure at all, so we're negotiating. Last night he offered to stop playing by 2AM every night. That was a good one.
If you've got a young teen, how do you handle screens? I'd love to hear about it.
Meanwhile, though, let's talk food. Next week ends with the July 4th weekend, but I figure for most folks the celebration will happen on Saturday/Sunday. I included a full five night plan.
Here's the menu:
MONDAY:
photo courtesy Food & Wine
Sheet Pan Eggplant Parmesan from Food & Wine, with salad. I love this recipe because you don't have to go through all the fuss of breading and frying the eggplant—the slices get broiled, then layered on the sheet pan with fresh mozz and slices of plum tomato. An extremely delicious lemon-garlic-herb breadcrumb topping provides the crunch. Also, it makes 8 servings, so you'll have leftovers to play with.
TUESDAY: Lemon-Garlic Chicken Thighs from Damn Delicious, with any vegetable and a grain like quinoa, couscous, rice, or what-have-you. Cook extra chicken and make a double-batch of the grain for Friday. Vegetarians, you've got options! Select one of the dozen marinades offered by It Doesn't Taste Like Chicken and cook up some tofu or seitan. You, too, will cook more than you need so you'll have fixings for Friday. IMPORTANT: Because there are such varied options for tofu/seitan marinades, I didn't include any ingredients in the shopping list. Don't forget to check your pantry before deciding which one to make!
WEDNESDAY: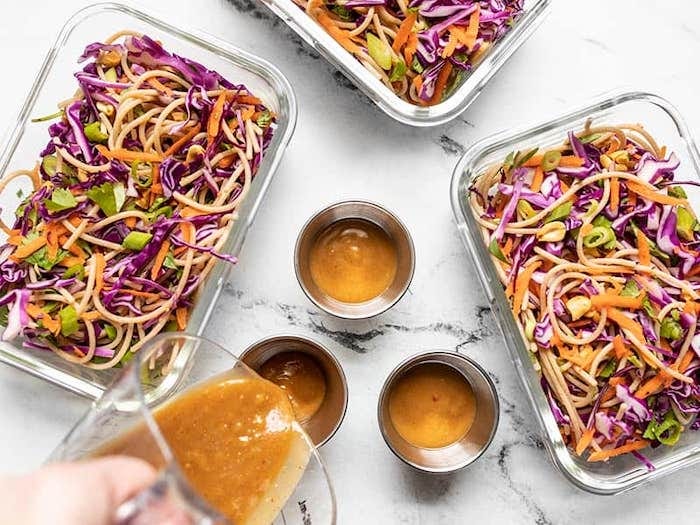 photo courtesy Budget Bytes
Cold Peanut Noodle Salad from Budget Bytes is easy and flexible—if you don't have the vegetables listed in the recipe, you can use whatever you do have that you enjoy eating raw. Add some edamame for a protein boost.
THURSDAY: Eggplant Parm Paninis, with your choice of vegetables. Tonight's a no-recipe dinner. I'll walk you through transforming Monday's leftovers into easy paninis—no panini press necessary.
FRIDAY: Anything Goes Grain Salad from Epicurious with chicken or seitan/tofu. Because this is one of those use-what-you-have recipes, I didn't include ingredients in the shopping list (beyond the grain and the protein, which you cooked earlier in the week). It's so flexible, though, that I'm 99% sure you'll have what you need.
Here's the shopping list:
Use this to see which recipes you can make with what you have. And remember, an asterisk * indicates an ingredient for a vegetarian option recipe.
Produce
2 large eggplants (about 14 oz. each) (M, Th)

5 cloves garlic (M, T, W, Th)

Fresh thyme (M, Th)

Fresh basil (M. Th)

Fresh cilantro (W)

4 scallions (W)

4 plum tomatoes (M, Th)

Green salad fixings (M)

Zucchini, green beans, or any vegetable, enough for two sides, OR frozen vegetables (T, Th)

1 small knob ginger (W)

1 small head cabbage (W)

2 carrots (W)

2 lemons (M, T, Th)

1 lime (W)

2 packages medium, firm, or extra-firm tofu OR seitan* (T, F)
Pantry
Olive oil (M, T, Th)

Neutral oil, such as sunflower or canola (T, W)

Red wine, white wine, or sherry vinegar (M)

4 cups prepared marinara sauce (M, Th)

8 oz. spaghetti or linguine, preferably whole wheat (W)

4 oz. chicken broth (T)

2 teaspoons Dijon mustard (T)

1 teaspoon dried oregano (T)

1/2 teaspoon dried thyme (T)

2-3 cups of grain: quinoa, couscous, rice, farro, etc. (T, F)

3 tablespoons natural peanut butter (W)

1 tablespoon brown sugar (W)

2 teaspoons soy sauce (W)

1/2 cup peanuts, preferably unsalted (W)
Meat Counter
8-10 boneless, skinless chicken thighs (T, F)
Dairy
1 lb. fresh mozzarella

5 oz. Parmesan cheese
Bakery
6 oz. sourdough bread OR fresh breadcrumbs (M, Th)

Enough Italian or French bread, ciabatta, or flatbreads to make 4 paninis (Th)
Freezer
Frozen vegetables OR fresh, enough for two sides (T, Th)

1 package shelled edamame (W)
---
That's all, folks. Tomorrow my son becomes a high schooler. Send help.
Stay safe, be kind, and wash your hands.
Debbie